Swoop Energy gives a second life to electric vehicle batteries
With the ban on the sale of new combustion engine cars in Europe by 2035, repurposing used electric vehicle batteries is an increasingly important issue. The start-up Swoop Energy, which was incubated at IMT Nord Europe and present at VivaTech 2023, provides a sustainable alternative to polluting generators by recovering these end-of-life batteries to integrate them in a smart, mobile generator. The start-up therefore functions as a link between premature end-of-life and energy-intensive recycling.
When they no longer perform well enough to ensure the intended range of an electric vehicle, batteries are sent to be recycled and made into new ones. But this is an extremely complex, energy-intensive process. Moreover, these batteries considered to be end-of-life actually still have at least 70% of their storage capacity. That means that they can be reused, thereby prolonging their useful lives by several years. This is precisely what the start-up Swoop Energy, incubated at IMT Nord Europe proposes: repurposing used electric vehicle batteries in mobile systems, as an alternative to generators that consume fossil fuels.
Yann Cousin is the driving force behind this project. He was living in Australia in 2019 when the country was ravaged by massive fires as a result of climate change. He then realized that generators which consume gasoline or diesel were the only backup energy solution to fill in for the electricity grid damaged by the fires. Such a solution was absurd for the young man. He went on to found Swoop Energy with two associates, Alexis Claeys and Karl Terral, as soon as he graduated in 2021, with the aim of developing a more virtuous backup power source. And, instead of developing power supply systems using new batteries imported from China, for example, the trio chose to use existing resources, namely used electric vehicle batteries.  
A mobile, modular concept
Swoop Energy's first prototype for a mobile generator using second-life batteries is currently being developed at a workshop in Ivry-sur-Seine (94). Old electric vehicle batteries are reconditioned in the form of modules, in a case to protect them from shocks and facilitate handling. The generator is composed of a docking station that resembles a dolly, which up to two 6 kWh modules can be plugged into. This backup generator can therefore supply 12 kWh of energy, which is equivalent to the energy needed to power a refrigerator for 10 days, or a conventional 2 kW electric radiator for six hours.
The modules are interchangeable: if one is drained, it can be unplugged and replaced with another while it is charging. The energy supply can therefore be maintained by rotating the modules. The number of modules needed is determined depending on run-time requirements. The battery modules can be recharged by solar energy or through the electricity grid using a standard power socket, with or without the docking station. The generator's flexibility makes it perfect for professionals and companies that rent equipment for the construction, event planning, and audiovisual production sectors as well as for local authorities for maintenance services or in the event of power outages following crisis situations (climate disasters, conflicts).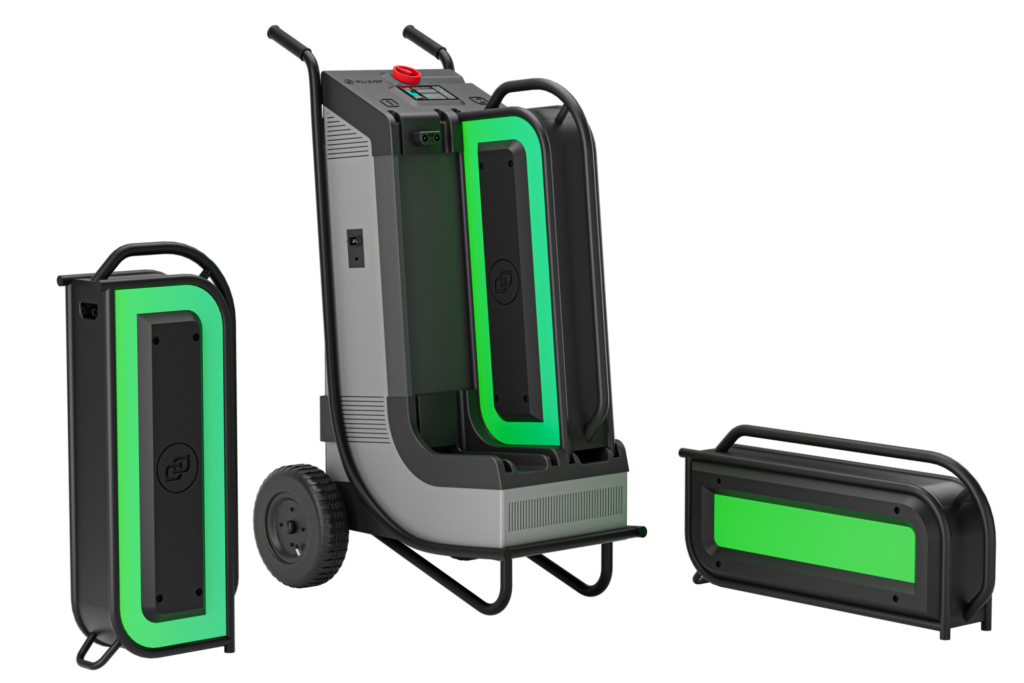 Swoop Energy's second-life battery generator is composed of a trolley that can hold two modules containing recovered electric vehicle batteries. Credits: computer-generated image provided by Swoop Energy.
"Energy case", an all-terrain case
Indeed, Swoop Energy first tested its concept to respond to a crisis situation. In November 2022, the Lille-based company Neo-Eco, which specializes in the regional circular economy, ordered generators from the start-up to send to Ukraine. Neo-Eco is helping rebuild structures that have been destroyed during the conflict between Ukraine and Russia, and its craftspeople on site face significant energy access constraints. Most of the energy infrastructure has been damaged and the little energy available is reserved for vital industries such as hospitals and supply stores.
In keeping with its circular policy, Neo-Eco turned to Swoop Energy, which reworked its concept to develop a prototype that was better suited to the field: the "energy case". This version does not use the module system, but is contained in a military-style case, designed to be rugged and always mobile. The "energy case" therefore meets specific needs for use in high-risk areas. Around ten prototypes were produced and sent to Ukraine, and Swoop Energy is working on finalizing a second version to be marketed on a large scale. Meanwhile, the first modular generator, which is more technologically advanced, should be commercially available in early 2024.
The "energy case" is a prototype designed for high-risk areas; around ten cases were sent to Ukraine to help rebuild buildings destroyed by the war. Credits: Swoop Energy.
Consolidating the supply chain
The use of second-life batteries is still in its early stages. As the head of Swoop Energy's technical operations explains, "Players are emerging in this market, but most of them are positioned in higher-capacity storage systems, such as in containers. For now, Swoop Energy is one of only two companies in Europe to use them in small, mobile units."
For procurement, the startup relies on intermediaries who collect batteries that are still usable and makes them available for reuse.  For now, the batteries are primarily sourced from Nordic countries, who adopted electric vehicles earlier than France. "But we're working on relocating this supply," says Alexis Claeys, who manages Swoop Energy's financial matters. "We're currently in discussions with various automotive industry players to structure the supply chain in France: manufacturers, recycling companies and end-of-life vehicle centers (VHU), which, over time, will recover an increasing number of electric vehicles, and therefore reusable batteries."
For these players, giving EV batteries a second life is an increasingly obvious choice, since recycling centers are already at full capacity, and the demand for recycling currently exceeds supply. Even if this situation is likely to balance out in the years to come, it takes time to increase these centers' capacity or create new ones. Not to mention that recycling batteries costs money, while selling them for a second life makes money.
Hit or miss?
Swoop Energy's added value will also be based on characterizing batteries. "When we receive these batteries, we have very little information about their first life in vehicles, and therefore very little visibility about their service life, or whether it poses a risk to put them back on the second-life market," explains Karl Terral. These parameters depend on the batteries' number of charging cycles, charge and discharge intensity and previous exposure to extreme temperatures and humidity.
Therefore, the start-up is developing a process to characterize batteries with an assessment of their level of degradation and remaining storage capacity, along with a risk scale for reuse. Heavily damaged batteries are then sent off to be recycled. Seeking a partnership with an automaker is the next logical step for the start-up, in order to gain visibility and refine its models for predicting battery reuse.
Numerous regulatory constraints
Reusing second-life batteries is still in its infancy in Europe, where automakers, as the first-to-market distributors, have a greater responsibility with regard to recycling batteries. But, second-life batteries at the end of the chain do not fit into any regulatory box, and the standards set by certification bodies are not clear on the matter. "The European legislation dates from 2006 and is no longer in step with the EU's efforts toward a green transition. We hope that the new regulatory framework set to be introduced soon removes barriers on our side, and on the automakers' side in order to resell their batteries," says Alexis Claeys.
For the three Swoop Energy associates, the certification of their second-use batteries is a cumbersome but necessary process before their generators can be produced on a large scale. In addition to CE certification for sale in Europe, lithium battery transport is subject to the Agreement Concerning the International Carriage of Dangerous Goods by Road (ADR). Nevertheless, Swoop Energy's founders hope to soon bring to market a certifiable, mass-producible version of their two generators: the modular concept and the "Energy case".
The long-term goal is to reuse as many batteries as possible: by 2027, the start-up aims to repurpose 3,000 batteries. "That sounds like a huge number, but 3,000 reconditioned battery modules is equivalent to roughly 300 electric vehicles, which is very few compared to the size of the French car fleet, and even fewer at the European level. With the rise of electric vehicles and enabling regulations, the number of used batteries is going to increase exponentially. Within a few years, we hope to be able to reuse most of them," says Alexis Clayes.
By Ingrid Colleau.
---
Supported by the Haut-de-France region
Since its early days, Swoop Energy has benefited from the support of financial partners such as Bpifrance, and industry sponsors such as Enedis, as well as various funding mechanisms connected to the region. Originally based in the Hauts-de-France region, the three associates received pre-founding assistance from the Regional Incubation Fund (FRI) and funding from the Regional Council, managed by the Hauts-de-France Innovation Développement (HDFID) platform. This funding has allowed the trio to benefit from the services of a Lille-based design office for the first product design stage, which will take a year.
In 2022, Swoop Energy received the Hodéfi award, which rewards innovative companies under a year old based in the Hauts-de-France region, helping it to obtain funding. To accelerate its development, the start-up joined the Warm Up mentoring program run by Réseau Entreprendre Nord, and, of course, the IMT Nord Europe incubator, with whom it is still working closely on product prototyping and mechanical and electronic design.
---
https://imtech.imt.fr/wp-content/uploads/2023/10/1676480165127.jpg
1699
2000
I'MTech
https://imtech.imt.fr/wp-content/themes/imtech-enfold-child/images/logo-imtech.png
I'MTech
2023-10-30 09:30:00
2023-11-15 09:22:29
Swoop Energy gives a second life to electric vehicle batteries