Fundamental and applied research are often simplistically portrayed as being opposite each other. The Carnot program, run by the Ministry of Higher Education, Research and Innovation, and by the National Research Agency (ANR), challenges this vision. Though its primary objective is to develop virtuous partnerships between public research institutions and companies in order to stimulate technology transfer, it achieves this goal by requiring the institutions it funds to make significant contributions to fundamental research. Far from being paradoxical, this forward-looking strategy focuses on preparing companies for the future, beyond their immediate technological competitiveness. The Télécom & Société Numérique Carnot Institute (Carnot TSN, of which IMT is a member) fulfills this mission through its Futur & Ruptures (Future and Disruptions) program. Its director, Christian Picory-Donné, answers our questions to explain the scientific challenges of this type of program.
The Carnot program invites Carnot Institutes to carry out "scientific resourcing." Can you explain what that is?
Christian Picory-Donné: It means preliminary research with the aim of preparing for the future of industry. What we have learned from the Fraunhofer Institutes in Germany, or other major technological research institutes, is that it is difficult for these organizations to be trailblazers. Their resources are targeted at satisfying nowadays market demands to such an extent that they tend to fail to prepare for the future. The Carnot program strives to address this shortcoming by providing funding well ahead of current industrial problems.
How does the Télécom & Société Numérique Carnot Institute (TSN) achieve this resourcing?
CP: The Futur & Ruptures program serves to fund the equivalent of 60 to 80 years of PhD, post-doctorate theses and sabbaticals every year. Funding for this support comes in part from Fondation Mines-Télécom, and in part from TSN Carnot. For TSN Carnot this initiative represents virtually all of its resourcing activity, or approximately 60% of the annual contribution it receives from the Carnot program. To give some concrete figures, this year TSN Carnot received a contribution of €4 million. This means €2.4 million was allocated to the Futur & Ruptures program to fund PhD and post-doctorate theses at members of TSN Carnot.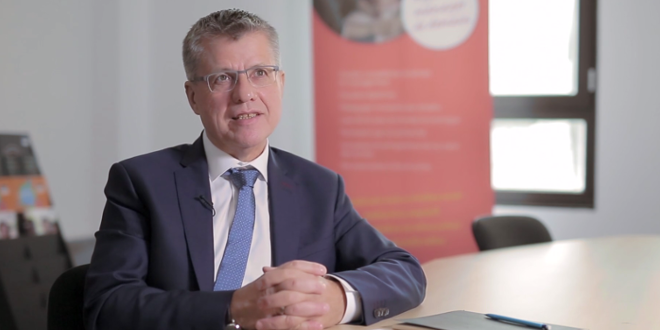 The Carnot program's objective is to develop partnership-based research. How does this upstream scientific positioning influence innovation?
CP: One example that comes to mind is the joint SePeMed laboratory between IMT Atlantique and the MEDECOM company, which was launched in 2014. It focuses on problems related to managing and securing medical databases. It all started with work by Gouenou Coatrieux, a researcher at IMT Atlantique, who obtained Carnot funding for his PhD and post-doctoral students through the Futur & Ruptures program. Thanks to the results achieved, he submitted a proposal for a Labcom (joint laboratory) project to the National Research Agency whose funding enabled a strategic partnership with MEDECOM through the creation of this joint laboratory was. There are many other success stories such as this one, and more to come since a great number of theses are funded while the benefits are not always as rapidly materialized or as directly related.
The Futur & Ruptures program is ten years old this year. What is your view of the program? 
CP: A very positive view. First of all, the Carnot program is a virtuous program, since it rewards research conducted by public laboratories in proportion to its effectiveness and the extent to which it fulfills its commitments to expanding partnership-based research. It is also a tool to support IMT's strategy. Originally focused on research to support economic development, the Carnot program also supports IMT's development plan. The same is true for the tools supported by the Foundation, so much so that a significant leverage effect can be observed—funding, development of research resources, research results—in keeping with the institute's strategic priorities.
This reality of partnership-based research contrasts with the stereotype of research activity as a service provided for a company.   
CP: Of course. We consider it to be targeted research since it is attentive to companies' problems, but that does not mean there is a subordinate relationship. Resourcing may be seen from different perspectives. First of all, there is this noble image of the researcher toiling away in his ivory tower to achieve his vision. This is not our standpoint, because Carnot resourcing is more connected to the vision we may have about long-term industrial needs. It is a very forward-looking position. We know, for example, that data protection and cryptography are a major issue—simply by being attentive to current industry concerns—so we have researchers working on quantum cryptography. But no company has come to ask us to fund such specialized research for use in immediate applications. That would be too risky for companies: industrial needs for quantum cryptography will not become a reality until a number of years from now. This positioning allows us to carry out fundamental research, while looking ahead to the technological obstacles that companies will face in the future.

The TSN Carnot institute, a guarantee of excellence in partnership-based research since 2006
Having first received the Carnot label in 2006, the Télécom & Société numérique Carnot institute is the first national "Information and Communication Science and Technology" Carnot institute. Home to over 2,000 researchers, it is focused on the technical, economic and social implications of the digital transition. In 2016, the Carnot label was renewed for the second consecutive time, demonstrating the quality of the innovations produced through the collaborations between researchers and companies.
The institute encompasses Télécom ParisTech, IMT Atlantique, Télécom SudParis, Télécom École de Management, Eurecom, Télécom Physique Strasbourg and Télécom Saint-Étienne, École Polytechnique (Lix and CMAP laboratories), Strate École de Design and Femto Engineering. Learn more