Virtual coaching can play a crucial role in maintaining healthy and active ageing through early detection of risks and intervention tailored to the individual needs of senior citizens. However, current technologies do not meet these requirements. Instead they offer limited interaction and are often intrusive. The 22 European and Japanese partners of the e-VITA project will develop a "multi-modal personal voice coach" to assist and safeguard the elderly person at home. With a budget of €4m funded by the European Union and of an equivalent amount funded by the Japanese MIC (Ministry of Internal Affairs and Communications), the project began in January 2021 for a duration of 3 years. Interview with Jérôme Boudy, researcher at Télécom SudParis, and project partner.
How did the European e-VITA project come about?
Jérôme Boudy – In a context of ageing populations, the idea of this project gradually took shape from 2016 onwards. Initially, there were ongoing projects such as EMPATHIC, of which Télécom SudParis is a partner, followed by a collaboration with Brazil, and finally the e-VITA (European-Japanese virtual coach for smart ageing) project with Japan, which aims to develop tools to ensure active and healthy ageing (AHA) through the early detection of the risks associated with old age.
Read more on I'MTech: AI to assist the elderly
What is the goal of e-VITA?
JB – The aim is to keep the elderly at home in a secure environment. Founded on international cooperation between Europe and Japan, e-VITA offers an innovative approach to "virtual coaching" that addresses the crucial areas of active and healthy ageing: cognition, physical activity, mobility, mood, social interaction, leisure… enabling older people to better manage their own health and daily activities.
What method will be used?
JB – By taking into account different cultural factors in European countries and in Japan, in particular the acceptability of interfaces used preferentially in these countries (smartphones, 3D holograms, social robots, etc.) e-VITA will develop an automatic multi-modal human-machine interface. Based on Natural Language Processing (NLP) and automatic spoken dialog management, it will also be equipped with several complementary non-verbal modalities such as recognition of a person's gestures, emotions, and situation.
This "virtual coach" will detect potential risks in the user's daily environment and how these risks could be prevented by collecting data from external sources and non-intrusive sensors. It will provide individualized profiling and personalized recommendations based on big data analytics and socio-emotional informatics. Interoperability and data confidentiality will be guaranteed through FIWARE and a federated data AI platform.
What expertise will Télécom SudParis and IMT Atlantique researchers involved in e-VITA bring to the table?
JB – Researchers from IMT schools will mainly ensure the interoperability and processing of the data provided by the different sensors, as well as the automatic monitoring of emotions on the face. In addition, our two living labs – Experiment'HaaL for IMT Atlantique and Evident for Télécom SudParis – will be made available to project partners. Finally, we will be in charge of the management of the "dissemination and exploitation" work package.
The project brings together a large number of partners. What are their roles in this project?
JB – The consortium brings together 12 partners in Europe and 10 in Japan, each with their respective complementary roles. Siegen University (Germany) and Tohoku University, are co-ordinating the project for Europe and for Japan, which brings together three major groups: end users responsible for needs specification and field assessment, such as APHP (France), AGE Platform Europe (Belgium), IRNCA (Italy), Caritas Germany, NCGG and IGOU (Japan); Academics and research organizations specializing in AI algorithms (automatic learning, fusion, expression recognition, etc.): alongside the IMT schools are Fraunhofer and INFAI (Germany), UNIVPM (Italy), Tohoku University, AIST, Waseda University (Japan)… ; and lastly, industrialists in charge of technical definition and process integration, mainly SMEs: IXP (Germany), Ingegneria Informatica (Italy), Delta Dore (France), Gatebox and NEU (Japan), and a single large group: Misawa (Japan)
What are the expected results?
JB – The creation of a "multi-modal personal voice coach" whose job is to assist, accompany and safeguard the elderly at home, and the operation of this system through several physical interfaces (smart-phones, robots, etc…) thanks to the integration of start-up incubators in our living labs and structures.
The coaching system will be installed into the living environments of healthy elderly people in France, Germany, Italy, and Japan to evaluate its feasibility and effectiveness. The results of the e-VITA project also include new standards and policies beyond technology, and will therefore be explored and transferred across Europe, Japan and worldwide.
What are the next big steps for the e-VITA project?
JB – The next step is the phase of specifying user needs according to cultural factors, and defining the architecture of the targeted system, which requires the organization of several workshops.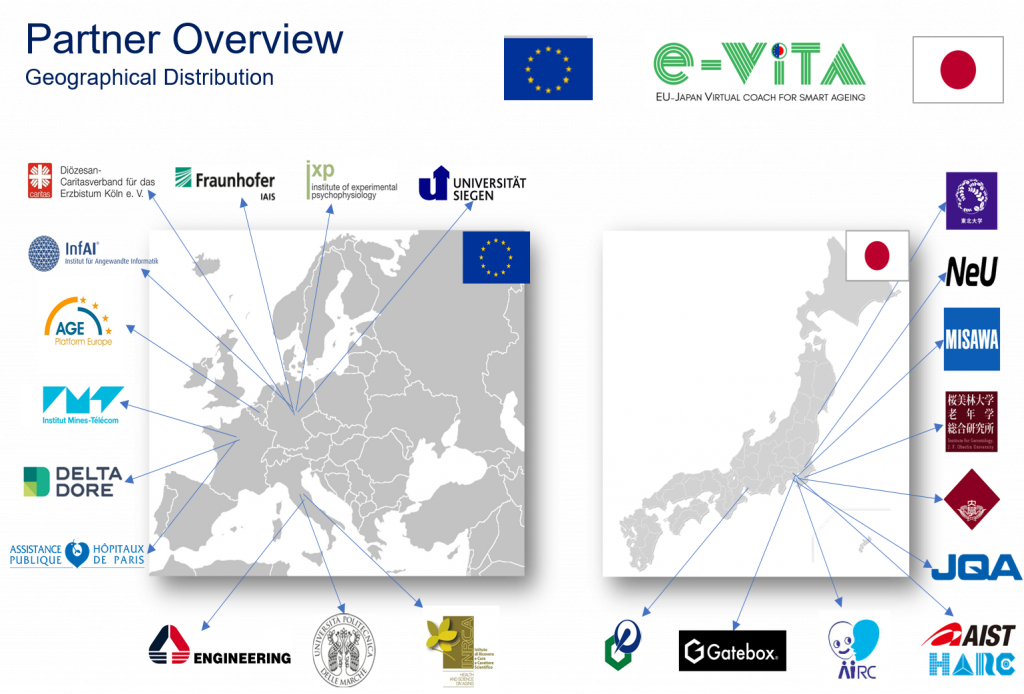 Find out more about e-VITA
Interview by Véronique Charlet