Among the research platforms at Télécom SudParis, BioMICA has developed bio-imaging applications that have already been approved by the medical field. Airways, its 3D representation software, received funding from Télécom & Société Numérique Carnot Institute.
The original version of this article (in French) was published on the Télécom SudParis website
One of the recommendations included in the March 2017 France AI Strategy report was to put artificial intelligence to work to improve medical diagnosis. The BioMICA research platform (which stands for Bio-Medical Imaging & Clinical Applications) has made this goal its mission.
"We aim to develop tools that can be used in the clinical setting," says Catalin Fetita, professor at Télécom SudParis and director of the bio-medical imaging platform. "Our applied research focuses on computer-aided diagnosis involving medical and biological imaging," he explains. As a specialist in image analysis and processing, Catalin Fetita offers the platform true expertise in the area of medical imaging, particularly in lung imaging.
AirWays, or another way of seeing lungs
AirWays is "image marker" software (like biomarkers in biology). Based on a sequence of lung images taken by a scanner, it extracts as much information as possible for clinicians to assist them in their diagnosis by offering a range of different visualization and classification options. "The quantitative aspect is very important, we do not only want to offer better visual quality," Catalin Fetita explains. "We offer the possibility of obtaining improved measurements of morphological differences in several areas of the respiratory system at different moments in time. This help clinicians decide which treatment to choose." In terms of quantified results, the software can detect 95% of stenosis cases, which is the narrowing of bronchial tubes that affects respiratory capacity.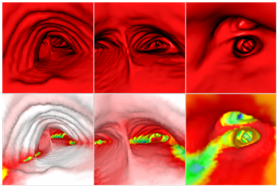 AirWays software uses a graphic grid representation of bronchial tube surfaces after analyzing clinical images and then generates 3D images to view them both "inside and outside" (above, a view of the local bronchial diameter using color coding). This technique allows doctors to plan more effectively for endoscopies and operations that were previously performed by sight.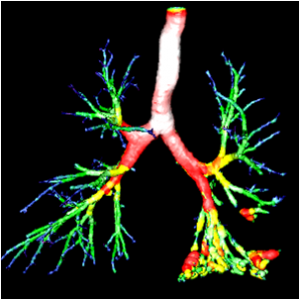 "For now, we have limited ourselves to the diagnosis-analysis aspect, but I would also like to develop a predictive aspect," says the researcher. This perspective is what motivated Carnot TSN to help finance AirWays in December 2017. "This new budget will help us improve and optimize the software's interface and increase its computing power to make it a true black box for automatic and synthetic processing," explains Catalin Fetita, who also hopes to work towards commercializing the software.
A platform for medicine of the future
In addition to its many computer workstations for developing its medical software, the BioMICA platform features two laboratories for biological experimentation. One of the laboratories has a containment level of L1 (any biological agent that is non-pathogenic for humans) and the other is L2 (possible pathogen with low risk). Both will help advance the clinical studies in cellular bio-imaging.
In addition, Catalin Fetita and his team are preparing a virtual reality viewing station to provide a different perspective of the lung tissue analyzed by Airways. "Our platform works thanks to research partnerships and technological transfers," he explains, "but we can also use it to provide services for clinical studies."