The 9th Fondation Mines-Télécom booklet addresses the major cross-cutting issue of trust in the digital age. The booklet was put together over the course of a series of events held in partnership with NUMA Paris, with support from the Foundation's major corporate partners. It examines the changing concepts of trust, while highlighting existing research in this area from IMT schools.
Cybersecurity, blockchain, digital identities… In 27 pages, the booklet offers perspective on these topics that are so widely covered by the media, examining the foundation of our interactions and practices: trust, a concept that is currently undergoing tremendous changes.
The first section examines the concept of trust and provides a multidimensional definition. The booklet differentiates the term "confidence", a form of trust related to the social context we live in, from "trust" that is decided at the individual level. This second form of trust is becoming predominant in the digital economy: trust tends to be reduced to a calculation of risk, to the detriment of our capacity to learn how to trust.
In the second section, the booklet examines the transformation of trust in the digital age. It offers a presentation of the blockchain by introducing the related concepts of protocol, consensus, and evidence. In addition to providing different types of use in the areas of health, personal data, and private life, it provides economic insight and raises the question: how can we make trust a new common good?
The booklet ends with a third section focused on the human factor. Exploring issues of governance, trust transitivity, networks of trust… New balances are being created and the relationship between social consensus and algorithmic consensus is constantly evolving.
This booklet, written by Aymeric Poulain-Maubant, an independent expert, benefited from contributions  from research professors from IMT schools: Claire Levallois-Barth (Télécom ParisTech), Patrick Waelbroeck (Télécom ParisTech), Maryline Laurent (Télécom SudParis), Armen Khatchatourov (Télécom École de Management) and Bruno Salgues (Mines Saint-Étienne). The Foundation's corporate partners, specifically Accenture, Orange, La Poste Group, and La Caisse des Dépôts, also lent their expertise to this project.
Download here the booklet (in French)
The new balances of trust, between algorithms and social contract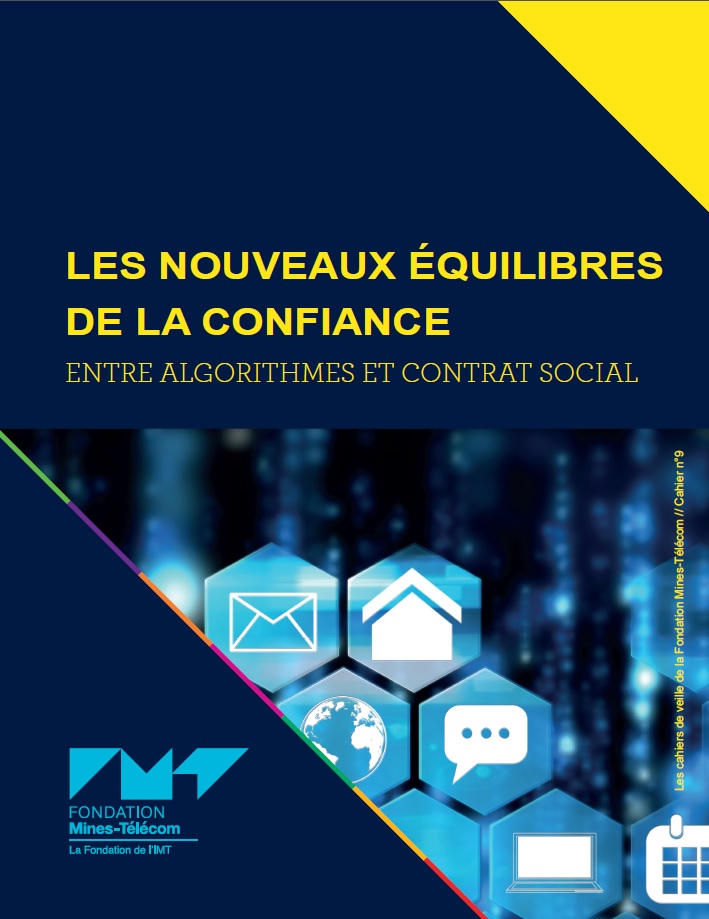 On the occasion of the release of the Fondation Mines-Télécom booklet, I'MTech
publish a series devoted to the link between technologies and trust.