At Télécom Bretagne, Mai Nguyen is drawing on the way children learn in order to develop a new form of artificial intelligence. She is hoping to develop robots capable of adapting to their environment by imitating the curiosity humans have at the start of their lives.
During the first years of life, humans develop at an extremely fast pace. "Between zero and six years of age, a child learns to talk, walk, draw and communicate…" explains Mai Nguyen, a researcher at Télécom Bretagne. This scientist is trying to better understand this rapid development, and reproduce it using algorithms. From this position at the interface between cognitive science and programming, Mai Nguyen is seeking to give robots a new type of artificial intelligence.
During the earliest stages of development, children do not go to school, and their parents are not constantly sharing their knowledge with them. According to the researcher, while learning does occur sporadically in an instructive manner — through the vertical flow of information from educator to learner — it primarily takes place as children explore their environment, driven by their own curiosity. "The work of psychologists has shown that children themselves choose the activities through which they increase their capacities the most, often through games, by trying a wide variety of things."
A mix of all learning techniques
This method of acquiring skills could be seen as progressing through trial and error. "Trial and error situations usually involve a technique that is adopted in order to acquire a specific skill requested by a third party," she explains. However, Mai Nguyen points out that learning through curiosity goes beyond this situation, enabling the acquisition of several skills, with the child learning without specific instructions.
In cognitive sciences and robotics, the technical name for this curiosity is intrinsic motivation. Mai Nguyen utilizes this motivation to program robots capable of independently deciding how they should acquire a set of skills. Thanks to the researcher's algorithms, "the robot chooses what it must learn, and decides how to do it," she explains. It will therefore be able to identify—on its own— an appropriate human or machine contact from whom it can seek advice.
Likewise, it will decide on its own if it should acquire a skill through trial and error, or if it would be better to learn from a knowledgeable human. "Learning by intrinsic motivation is in fact the catalyst for existing methods," explains Mai Nguyen.
Robots better adapted to their environment
There are several advantages to copying a child's progress in early development and applying the same knowledge and skill acquisition mechanisms to robots. "The idea is to program an object that is constantly learning by adapting to its environment," explains the researcher. This approach is a departure from the conventional approach in which the robot leaves the factory in a completed state, with defined skills that will remain unchanged for its entire existence.
In Mai Nguyen's view, this second approach has many limitations. Particularly the variability of the environment: "The robot can learn, with supervision, to recognize a table and chairs, but in a real home, these objects are constantly being moved and deteriorating… How can we ensure it will be able to identify them without making mistakes?" However, learning through intrinsic motivation enables the robot do adapt to an unknown situation, and customize its knowledge based on the environment.
The variability is not only related to space; it can also include time. A human user's demands on the robot are not the same as they were ten years ago. There is no reason to believe they will be the same ten years from now. An adaptive robot therefore has a longer lifespan vis-à-vis human societal changes than a pre-defined object.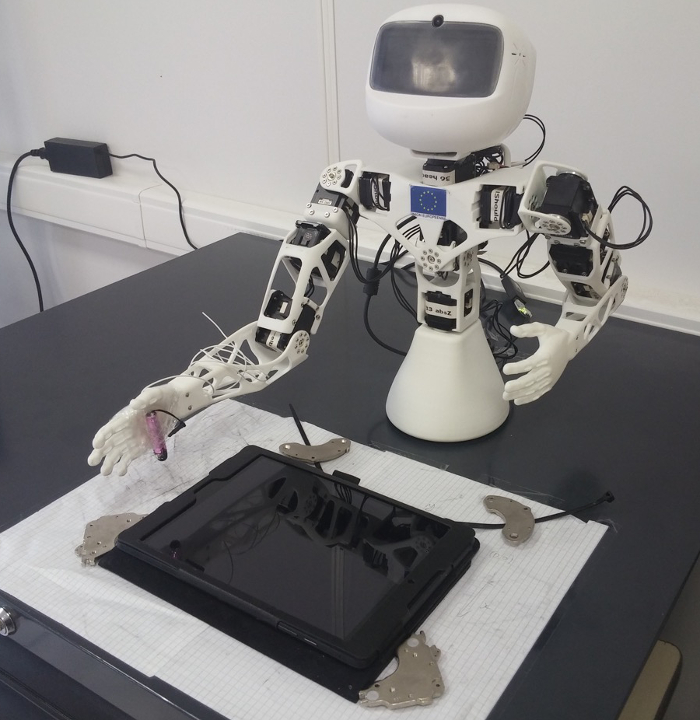 Data sana in robot sano
It seems difficult for supervised automatic learning to compete with artificial intelligence led by intrinsic motivation. Mai Nguyen reports on recent experiments involving the replacement of faulty robots developed with automatic learning: "When an initial robot ceased to be operational, we took all of its data and transferred it to an exact copy." This resulted in a second robot that did not work well either.
This phenomenon can be explained by the concept of the incarnation of robots developed using automatic learning. Each body is linked to data acquired during the conditioning procedure. This is a problem that "curious" robots do not face, since they acquire data in an intelligent manner, by collecting data that is customized to their body and environment, while at the same time limiting the data's volume and acquisition time.
When will curious robots become a part of our daily lives?
Artificial intelligence that adapts to environments to this extent is especially promising in its potential for home care services and improving the quality of life. Mai Nguyen and her colleagues at Télécom Bretagne are working on many of these applications. Such robots could become precious helpers for the elderly and for disabled individuals. Their development is still relatively recent from a scientific and technological point of view. Although the first psychological theories on intrinsic motivation date back to the 1960s, their transposition to robots has only begun to take place over the past fifteen years.
The scientific community, which has been working on the issue, has already obtained conclusive results. By causing robots with artificial intelligence to interact, scientists observed that they were able to develop common languages. While these languages were based on different vocabulary during each trial, it always enabled them to converge on situations in which the artificial intelligences could communicate together, after starting from scratch. It's a little like imagining humans from different cultures and languages ending up together on a desert island.
Artificial intelligence at Institut Mines-Télécom
The 8th Fondation Télécom brochure, published in June 2016, is dedicated to artificial intelligence (AI). It presents an overview of the research underway in this area throughout the world, and presents the vast amount of existing research underway at Institut Mines-Télécom schools. This 27-page brochure defines intelligence (rational, naturalistic, systematic, emotional, kinesthetic…), looks back at the history of AI, questions the emerging potential, and looks at how it can be used by humans.