The quantified self is one of the fields of research at Institut Mines-Télécom, requiring the miniaturization of sensors, the optimization of their energy consumption and sometimes their incorporation into the fabric of clothing. Christian Person, a researcher at Télécom Bretagne, has developed a research activity into this direction, focusing on harvesting ambient energy and locating antennas as close to the body as possible. He carries out his research as part of the Smart Sensing™ consortium, which innovates with cutting-edge technology fabrics designed for the intense uses of communicating clothing, through the first product, the d-shirt, a "digital t-shirt" for sports players.
Smart Sensing, a multidisciplinary consortium working on a simple idea
Multiple talents are required to develop a device that measures sportsmen's physiological parameters, such as body temperature and heart rate, as well as their physical parameters such as speed, acceleration and geolocation. Yet this is what Jean-Luc Errant, founder of the company Cityzen Sciences, has done. He wanted a device that could be worn without being noticed and function in extreme situations such as in high mountains or at sea. During his investigation he met scientists, engineers and athletes, and their opinions gave birth to a seemingly simple idea: rather than a mobile phone, a garment can in fact provide the ideal way of monitoring physical condition throughout the day. All that remained was to incorporate sensors and energy sources. Cityzen Sciences was set up in 2008, and two years of academic research followed in order to create a state-of-the-art product. The project attracted interest and in 2010 received significant support from BPI France, and a consortium was set up consisting of the Payen group, specialists in elastic threads and fabrics for sporting and technical purposes, Éolane, the leader in France for industrial services in professional electronics, the Cyclelab group, bicycle specialists who were to act as distributers, and Télécom Bretagne.
"The multidisciplinary spirit behind the consortium is also present on the academic side" points out Christian Person, who has adopted Isaac Newton's maxim: "Men build too many walls and not enough bridges". No less than six research departments at Télécom Bretagne are uniting their expertise for the first time for tomorrow's communicating garment. Christian Person is working on techniques for integrating and reducing the size of antennas and related elements as well as the evaluation of wave-people interaction and designing intelligent sensors. Since "everything must be optimized", his co-workers are researching algorithms for measuring electrocardiographic data, the detection of variations in the signals received, software interfaces (the data is collected on a dedicated platform) and IPv6 protocols for connected objects.
Harvesting ambient energy
By wearing a d-shirt a cyclist will be able to monitor his cardiac data via electrodes located close to his chest. The information will be transmitted through the threads of the fabric, "threads of approximately 25 microns, containing both insulation fibres and conductors", to an electronic card situated at the top of his back that enables the transfer of data collected at the end of the ride to a related terminal.
Amongst the technical challenges of the d-shirt – miniaturization, integration of conductor threads into the fabric, connected textile sensors, energy management and data processing – Christian Person is researching antenna components and energy harnessing. For reasons relating to cost, size or weight, battery-powered sensors alone are not sufficient enough to provide the necessary battery life. Temperature gradients, mechanical vibrations, light or radio-frequency waves all constitute potential sources of energy in the surrounding environment. "At the moment", the researcher continues, "radio waves are our source of energy, with the aim of using the omnipresent electromagnetic spectrum". Other sources are possible, however, "such as harvesting energy through a piezoelectric micro-generator, using the dilatation of the fabric when we inhale or the movements of the bicycle". Since energy sources are not all equally reliable, such as the piezoelectric components, "current research focusses on cumulatively harnessing multiple energy sources". With regard to this, thermal energy seems very promising given the differences between the human body and its surroundings, especially in a sporting context.
Monitoring as close to the body as possible
Christian Person's interest in sensors located on or in the body comes from his long-term research on the analysis of interactions between waves emitted by phones and human body. From probes originally developed for Antennessa (now Satimo), a spin-off company incubated at Télécom Bretagne, as part of the Comobio project that coordinated studies in this field, the researcher, who is now a Cofrac (French Accreditation Committee) expert for the certification of telephones, is currently looking into the advantages of worn sensors and associated waves. "One idea is to place antennas on the body in order to spacially identify body parts precisely by the level of radio signals emitted/received". This is the aim of the BoWI (Body World Interaction) project launched on 1st October 2012 for a duration of four years within the Breton Labex CominLabs. The researcher is also a senior member of the WHIST laboratory, a joint laboratory between the Institut Mines-Télécom and Orange Labs created in 2009, and which is dedicated to communicating people and the interaction between waves and people. "Corporal networks remain very peripheral (sensors on the body), but we are starting to use methods that interact more and more with the body, with  non-intrusive and non-invasive sensing systems, as well as targeting flagship applications in the field of monitoring health in real time", he explains. Moreover, by analyzing interaction between sensors and their relative locations, highly original fields of application are created, "like music or piloting drones for example" the researcher says enthusiastically.
For the moment, the d-shirt will be sold at an initial launch price targeting users accustomed to top-of-the-range products. Professional sports teams are also partners of the Smart Sensing consortium and are interested in the idea. "The trainer can see his players' physical condition live, and make changes at the right moment", Christian Person explains. In time, amateur sports players will also use this technology, in particular since the connected garment will upload information onto social networks, enabling interaction with others. Since each person will want their garment to be compatible with connected objects sold by different companies, the data must be processed independently of these objects and their origin. This is the purpose of Cityzen Data, a company incubated at Télécom Bretagne. Last but not least, a design school rounds off the list of partners looking to maximize visibility of the project, accelerate innovation transfer and enable large-scale use of the products developed. "Connected people are more and more instrumented" the researcher concludes, and there is no doubt that Smart Sensing's multidisciplinary approach, dealing at the same time with production, distribution of instrumented objects and the processing of collected data, should guarantee the success of such technological innovation.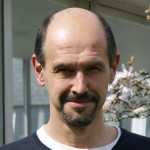 Professor and Deputy Scientific Director at Télécom Bretagne, Christian Person considers that he has "been very fortunate" in the research projects he has led. This research professor "who initially intended to become a secondary-school teacher", leads a team of 25 staff at the CNRS Lab-STICC laboratory and has supervised more than 30 thesis, some of which have led to the creation of companies such as Elliptika, a company specialized in microwave products design for spacial apps. He has also filed twenty or so patents, in particular in sub-marine communication: "given that sea water is very similar to the human body in terms of physical properties, it was used for risk-free studies on the underwater communication". A Senior Member of IEEE, he has co-edited several articles in international journals, and directs the K commission (Electromagnetics in Biology and Medicine) of the French section of URSI (International Union of Radio Science). He is part of a committee for the organization of international science conferences in the field of microwaves.