The digital revolution, from which emerged social networks and big data, has led to far-reaching changes in a large number of economic sectors. Businesses need help to develop new strategies suited to these transformations, and it is with this in mind that Christine Balagué, researcher at Télécom École de Management and Vice-President of the National Digital Council, created the "Social media: economic and social value creation" chair within the Institut Mines-Télécom.
The digital explosion is characterized by mass uses, data and trends. We are seeing a transfer of audiences from the traditional media to the internet and, within the internet, from websites to social networks, which now attract more than 1.6 billion people in the world,[1] including at least 32 million in France.[2] New technological developments, tablets, smartphones and other touchscreen interfaces allow information to be shared in real time. The consequences for businesses are numerous. Communication, customer relations, innovation, market surveys and the marketing-related professions have been totally transformed. Social networks, which give everybody a chance to have their say, have become unavoidable, but how should they be used?
Using social media: yes! But how?
Christine Balagué's work has been focusing on this matter for several years, and it was with the aim of thoroughly understanding the uses of digital technology in order to offer appropriate strategies to businesses that in 2011 she created the Chair called "Social media: economic and social value creation". It is an ambitious project: modeling the behaviors of social media users, identifying emerging uses, studying the way social media have transformed customer relations management and designing tools adapted to big data.* There are 15 or so researchers in various disciplines working on these four lines of research in the four telecoms schools of the Institut Mines-Télécom.
Most of the research on the theme of "quantitative modeling" of behavior is carried out at Télécom Ecole de Management. The aim is to understand how information spreads through networks. The emphasis is placed on quantitative aspects in this approach. The target is to be able to explain and predict the number of comments, likes, shares, tweets, re-tweets, and posts: in a nutshell, all the activity generated on social networks. The key for this model is the choice of explanatory variables. Some of them are structure-related variables such as page rank, number of hits and degree centrality. However, graph theory alone does not explain the spread of information within the networks as there are other variables related to the character of the individual or the content of what is being shared. Communities also develop within social networks and need to be identified. One branch of research focuses on their detection and the analysis of what users talk about. For example, in collaboration with researchers at Télécom Bretagne and as part of the Open Food System[3] project which focuses on the influence of digital technology on food preparation, the study of conversations has identified communities not necessarily linked to a given platform.
The research requires the development of crawling* tools and text mining* software adapted to social networks. These crawling tools have been designed at Télécom École de Management, and a thesis at Télécom SudParis is being carried out on large-scale crawling. The number of fans or followers is not a very meaningful indicator. Metrics on audience, algorithms for the measurement of influencers and the right variables explaining internet users' behavior are assets with genuine value-added compared to existing tools. In particular, they allow companies to be shown where to concentrate their efforts and what to pay attention to.
Three main lines of research are being carried out on the topic of "uses" by sociologists at Télécom ParisTech: geolocation, cultural diversity and multi-network. Displaying spatial location is one of the emerging behavioral phenomena that sociologists are interested in. Moreover, uses differ according to the area of the world and many companies are very interested in such cultural diversities.
The metamorphosis of customer relations
The issue of "managing customer relations through social media" is being explored at Télécom École de Management. The subject has been revolutionized by the ability for consumers to express themselves directly, in real time and at any moment. We are in the era of user empowerment where the expression of dissatisfaction has to be managed. Hence the numerous Twitter feeds dedicated to real-time customer satisfaction management. It really works: research shows that a client who expressed dissatisfaction and whose problem was quickly resolved is then 5 times more loyal than any other average client. New jobs meet these new needs for companies, such as that of community manager*. A measurement model for this role and its impact on customer satisfaction has been developed.
Lastly, the research at Télécom École de Management on the subject of Big Data revolves around two projects in particular: Sodatech and Inovagora.[4] Sodatech is a monitoring and CRM 2.0* project based on the processing of both purchasing data and social data leading to innovations in the field of recommendations. It is built around the idea that today, an individual's behavior is influenced much more by what their peers say on a social network or community platform than by information published by a brand, company or institution. The objective of Sodatech is to qualify active social media users through innovative criteria and to detect the dynamics of influence, while Innovagora aims to create crowd-innovation* platforms.
The advantage of the multidisciplinary approach
All of this research meets businesses' operational needs. The work of the Chair has led to the elaboration of new algorithms and key metrics for understanding and measuring internet users' behavior on social networks. Today, the work is focused mainly on big data analysis of social networks, for which the scope of research is still very open. Against this backdrop, the Chair has a major asset: the ability to capitalize on the diversity of skills within the Institut Mines-Télécom graduate schools in order to broaden horizons and create interplay between complementary visions. The different aspects brought to the table by marketing, IT, sociology, math, physics and psychology allow varied advances to be used in connection with each other. Long live the multidisciplinary approach!
Se renouveler pour mieux continuer
Lancée en 2011 par Christine Balagué, la chaire « Réseaux Sociaux : création de valeur économique et sociale » est structurée autour d'un programme de recherche sur trois ans. Le premier budget d'un million d'euros, conclu avec les trois premiers partenaires, Danone, Les Pages Jaunes et La Poste, arrive à son terme fin 2014. Une nouvelle phase de financement prolongera la collaboration avec les partenaires historiques ou permettra d'en impliquer de nouveaux. Elle portera sur le Social Internet of Things (SIoT), réseaux sociaux comprenant à la fois des individus et des objets connectés. Learn more
Christine Balagué, digital technologies in her genes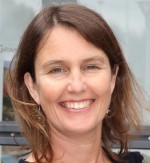 "How can digital technology create value for businesses?" This is the main thread of the work conducted by Christine Balagué, research professor at Télécom Ecole de Management, ESSEC graduate (1987), ENSAE graduate (1993), Dauphine University graduate (2000) and accredited to supervise research (2013). Her doctoral thesis in Management Sciences, which she defended in 2005 at HEC, is about modeling internet users' behavior using Petri nets. Christine is Vice-President of the French National Digital Technology Council, a group of experts regularly called upon by the government to consider all matters relating to the impact of digital technology on society and the economy, and to issue recommendations accordingly.
* Glossary
Big data: Extremely large datasets needing to be processed in real time
Community manager : person who manages communities on social networks
Crawling: technique of data extraction from websites.
Text mining: extraction of knowledge in texts with the help of algorithms.
Crowd innovation: innovation of products and services via the creation of digital platforms destined to collect internet users' opinions and ideas.
CRM 2.0 : Customer Relationship Management via social media
[1]
Source Institut eMarketer, November 2013
[2]
Source Institut Médiamétrie, June 2013
[3]
Project selected within the framework of the call for "Structuring Projects for poles of competitiveness" in the French Future Investments Program
[4]
Projects selected within the framework of the "Big data" call for projects in the French Future Investments Program.