Gérard Dubey, Institut Mines-Télécom Business School and Anne-Cécile Lafeuillade, Conservatoire national des arts et métiers (CNAM)
Given the magnitude of uncertainty and risk of disruption threatening the economic and social order, the digitization of productive activities is often presented as a panacea.
Whether it's a question of industrial production, creating new jobs or reclaiming lost productivity, the narrative supporting industry 4.0 focuses only on the seemingly infinite potential of digital solutions.
Companies that are considered to be active in the digital sector are upheld as trailblazers that will drive recovery. The Covid crisis has only accentuated this trend, which already appeared in the industry of the future programs.
Automated data captures downstream in the production process (with cameras, sensors, information extraction at each workstation) and their algorithmic processing upstream (big data, data science) hold the promise of "agile" management (precise, flexible, personalized) in real production time – something every industrial process strives for.
Nevertheless, this digital transformation seems to have forgotten two key facts: a company is first and foremost a group of human beings that cannot be reduced to numerical targets or abstract productivity criteria. And more importantly for industry, the relationship with the material is still a crucial dimension, which unites work teams and gives them meaning.
As such, there is something of a disconnect – which is only growing – between the stated ambitions of major industrial players and the realities on the ground.
The relationship with the material at industrial SMEs
From this perspective, although their role in (incremental) innovation is all too often overlooked and poorly understood, industrial SMEs have a lot to teach us. This is mainly due to the kind of specific relationships they continue to maintain with the material, if this is understood as a reality concerned as much with human aspects (motions, experiential knowledge, sense knowledge) as physical aspects (measurable). As they are rooted in their local communities and have withstood the test of time, they are accustomed to developing, arranging and organizing heterogeneous expertise and modes of intelligence about reality.
The surveys conducted in many industrial SMEs by a multidisciplinary research team show how important this relationship is to their directors. This can be seen in a number of aspects and affirms that their decisions are rooted in the reality of the situation.
When the CEO of Maison Caron digitized its site and moved to Saclay in 2019, she did not do away with the "old" coffee roaster from the 1950s. Coffee roasting may be rooted in reality and the senses, but the magic of aromas happens because the nose, eyes and even ears know how to control it – traditional know-how passed down through her family that she now shares with some employees of the company.
At Guilbert Express, another family business that makes high-end welding equipment, the director has observed a progressive loss of know-how in France, following the strategy to offshore export-oriented production in recent years. By going digital, he hopes to unite scattered work teams based on a shared, intercultural experience.
At Avignon Céramic, a company in Berry that makes ceramic cores for the aeronautical industry, quality comes down to daily interactions with the material. And this material – inherently unstable, unpredictable, a source of variability and uncertainty, almost "living" and virtually independent – in turn requires know-how that is itself living, precise and agile, to make a final product that is an acceptable part for the supply chain of major manufacturers.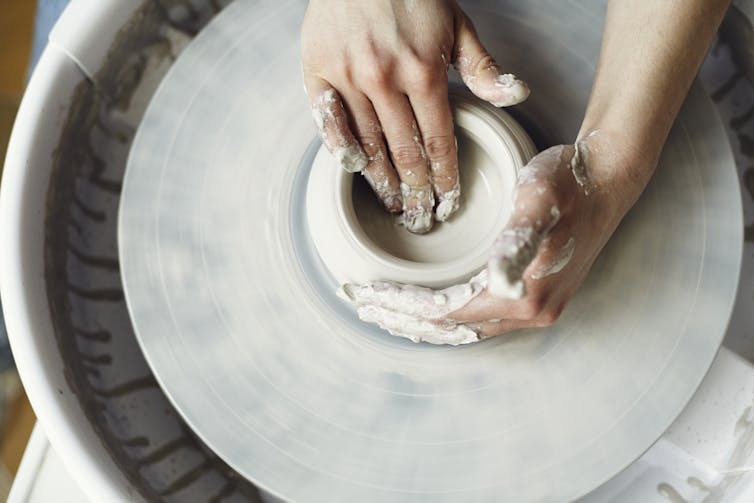 This is particularly apparent in Opé40, one of the key steps of the quality processes implemented to identify defects in the ceramic cores. This visual and tactile inspection identifies infinitesimal details and requires extensive expertise. But this step is also decisive in establishing collective knowledge and building a work team: while some employees are responsible for detecting defects, everyone works together to use these traces to discover the meaning, similar to a police investigation.
It is through this relationship with material that the work community is brought together. From this perspective, SMEs appear to possess what may be one of the best-kept industrial secrets: how human beings and material contribute to a shared transformation process.
While traceability and numerical data analysis systems play a growing role in the organization of work by companies seeking to harness this human expertise of the material – which is sometimes passed down through generations – the challenge is to integrate these transformations without giving up this culture.
Humans – the key to adaptation
The director of AQLE, a company located in the North of France that specializes in electronic assemblies, raises questions about the risks posed by loss of meaning among employees if part of their activity is carried out by digital technology. To what extent is it possible to eliminate movements that are considered to be tedious without ultimately affecting the activity in its entirety – meaning developing, maintaining and acquiring expertise (training, learning, ways of passing it down)?
Similarly, the generational gap observed in the use of digital technology is often highlighted (in documents encouraging this transformation) to express the idea that younger employees could become mentors for older employees and act as intermediaries for the digital transformation of a company. But once again, the problem is more interesting and complicated than that.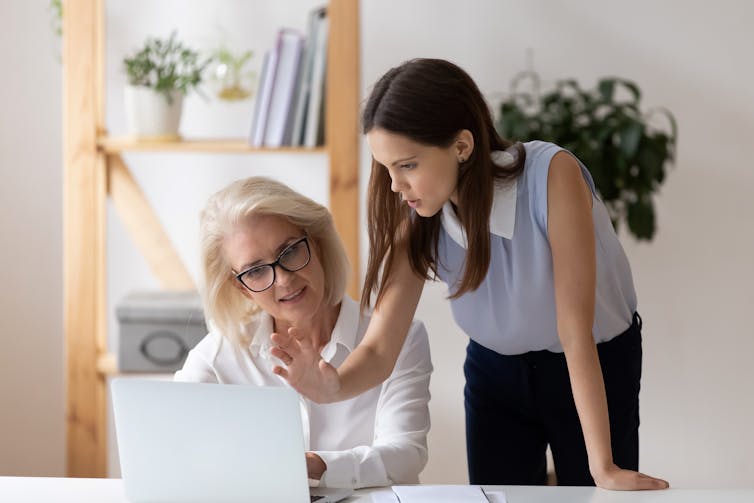 First of all, there is a need to develop new relationships and balance between the concrete (sensory, manual etc.) and digital world. From this perspective, the archaic/innovative dichotomy (often echoed in the cognitive/manual one) appears to be futile. It is the handing over of practices that matters, and not the "disruptive" approach, which more often than not results in approaches that are out of step with realities on the ground. The entire purpose of digital technology is precisely to urge us to question our forms of attachment to work.
One of the challenges of a successful "digital transition" will undoubtedly be to manage to combine or reconcile these different ways of acting on reality in a complementary manner – rather than through an either/or approach. It must be accepted in advance that the information obtained by one method or another is of a different nature. Digital processing of data cannot replace knowledge of the material, which relies on humans' propensity to sense that which, like themselves, is living, fragile and impermanent.
Humans' familiarity with living material, far from being obsolete, may well be one of the keys to adapting to the upheavals taking place and those yet to come. The Covid crisis has shattered certainties and upended strategies. The time has come to remember that human expertise, and the collective memory on which it is founded, are not merely variables to be adjusted, but the very condition for agility, which is increasingly required in a globalized economy marked by uncertainty.  
Gérard Dubey, Sociologist, Institut Mines-Télécom Business School and Anne-Cécile Lafeuillade, PhD student in ergonomics, Conservatoire national des arts et métiers (CNAM)
This article has been republished from The Conversation under a Creative Commons license. Read the original article (in French).